Sign into your Halo PSA system and click on Configuration and then Integrations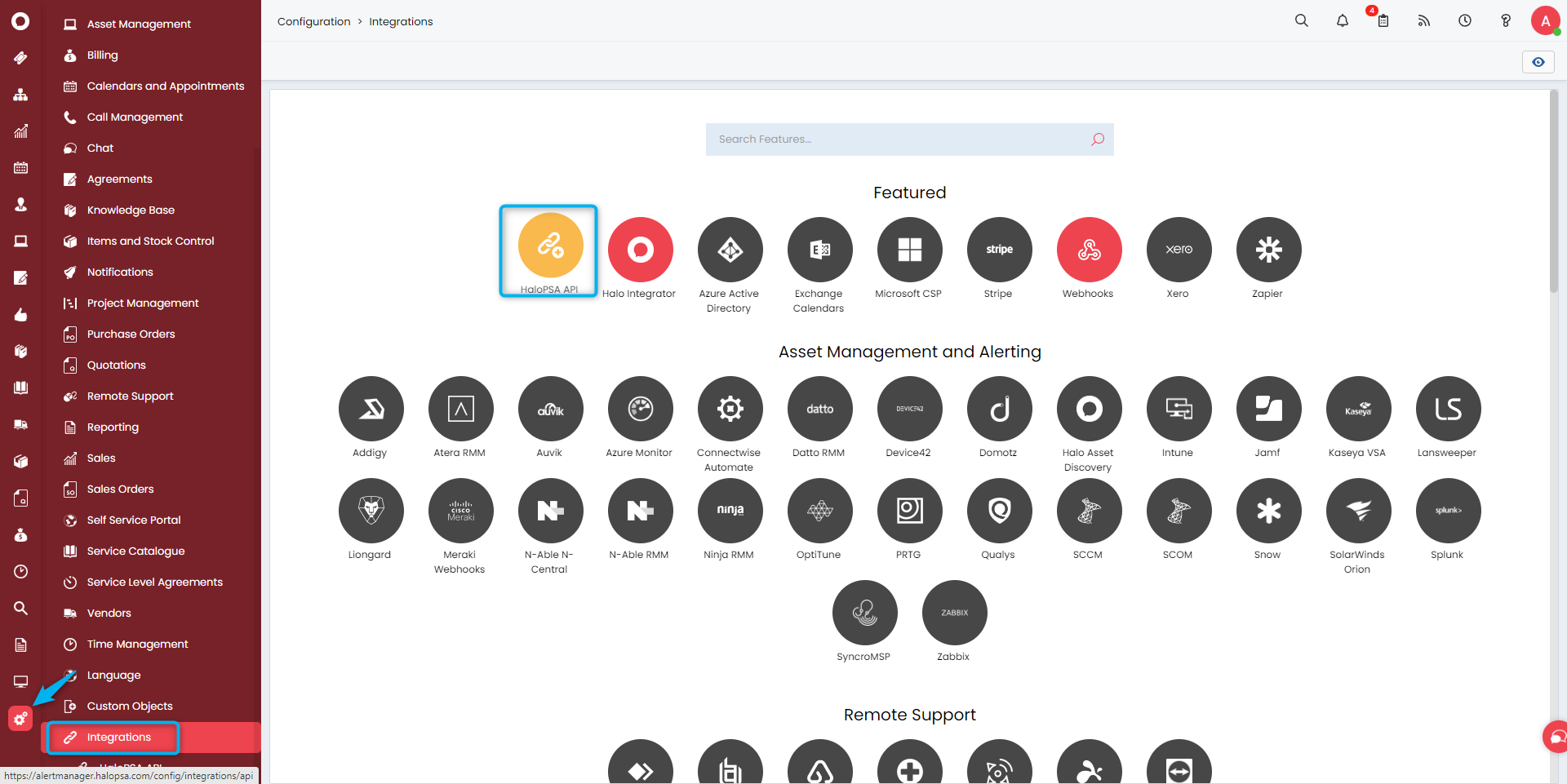 Find and copy the resource server link without the /api part. Then click on View Applications.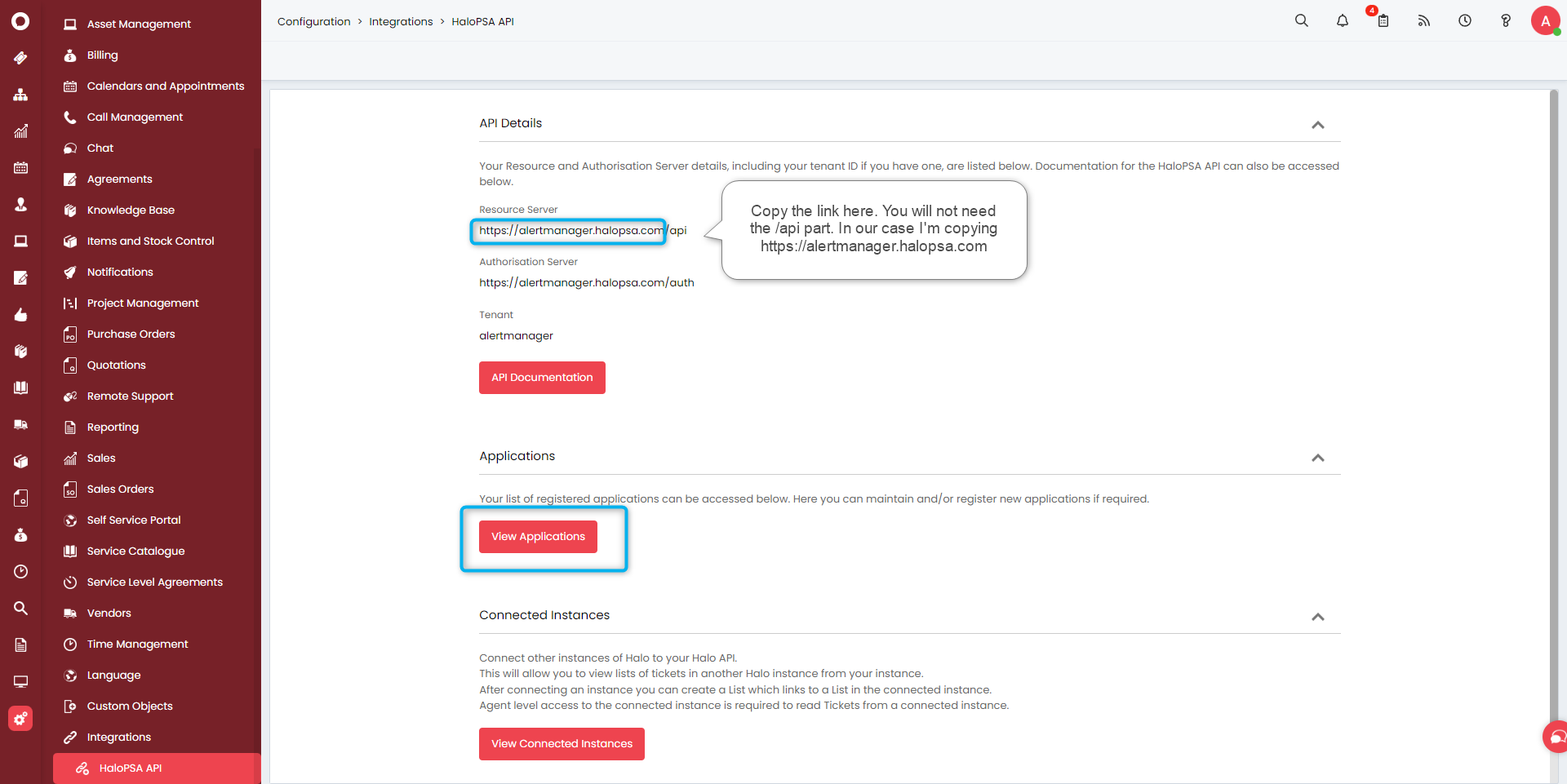 Click on New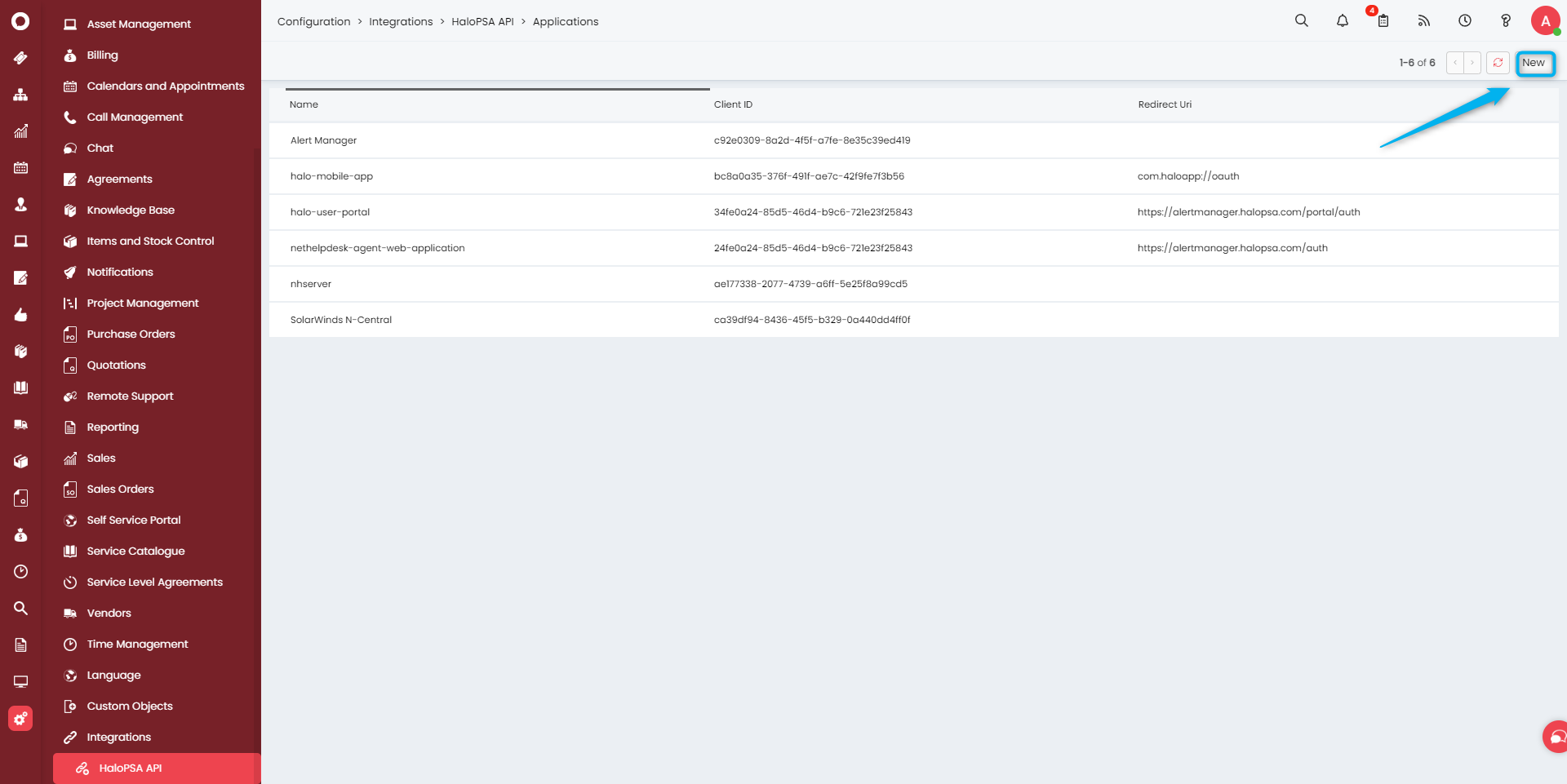 Give it an application Name, we recommend Alert Manager. Select Client ID and Secret then click on Generate. Copy the Client ID and Client Secret to Alert Manager along with your URL from the previous step. Set the Login type to Agent and select a user with appropriate permissions.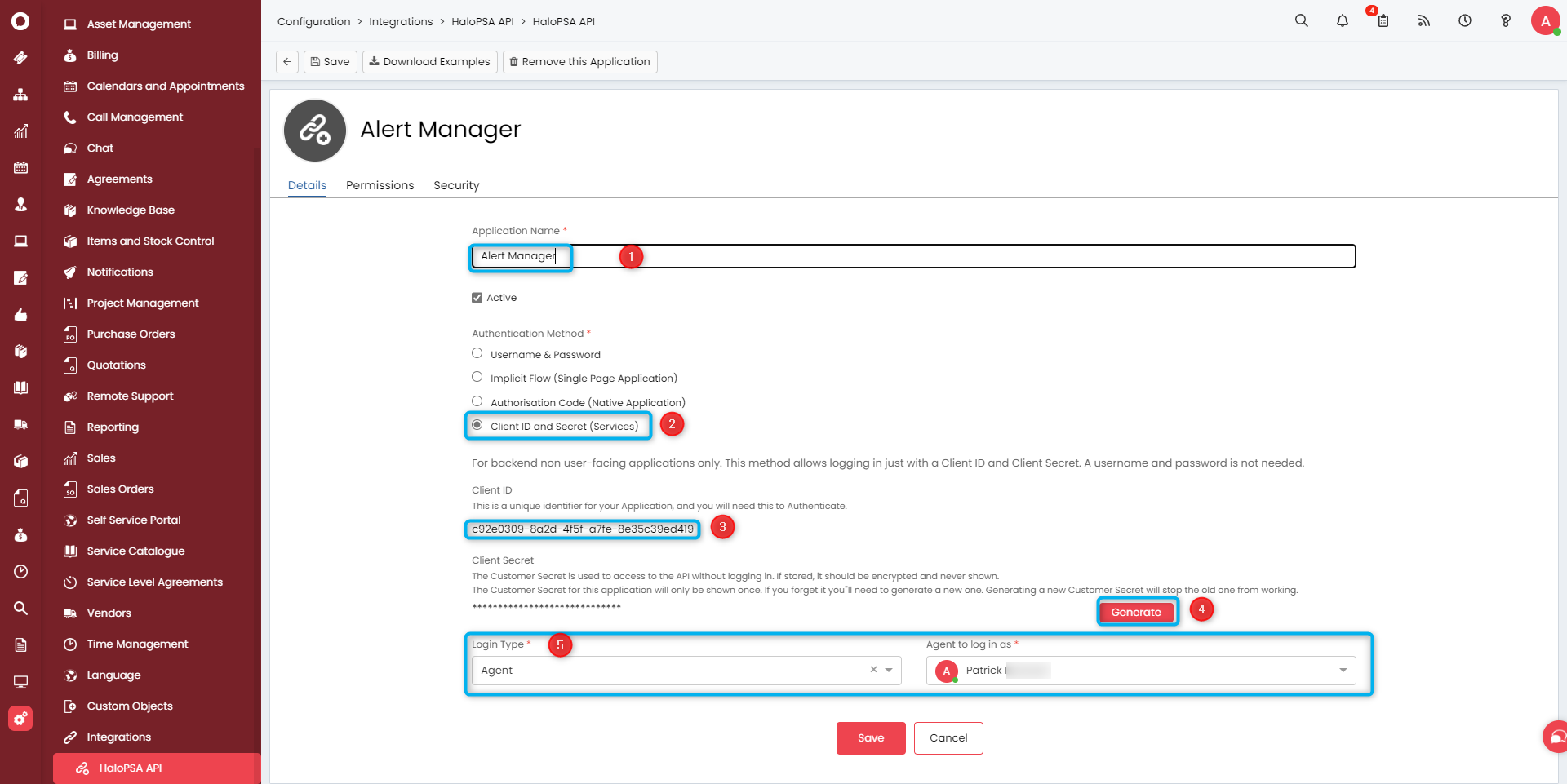 Click on Permissions
Select the following permissions: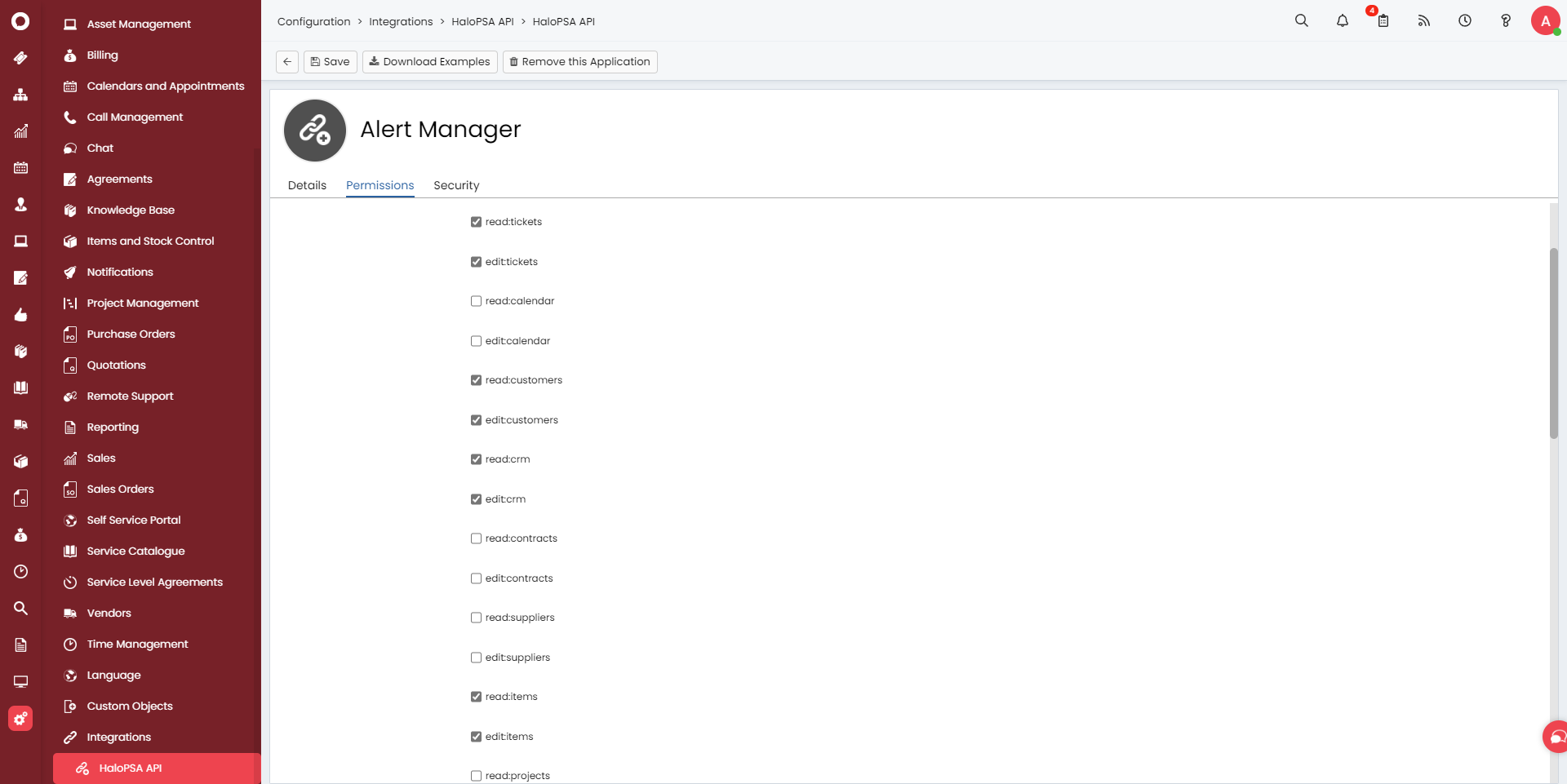 Click Save
Login to ConnectWise as an Admin and select System -> Members -> API Members as shown below:
Click on + as shown below:
Fill out all required fields and click Save button: Be sure to set the permission to "Admin".
lick on API Keys and then click on the + sign to add a new key:
Give it a description and click Save:
The keys will disappear after you click save and close so copy both now to a document or directly into Alert Manager before you save and close in ConnectWise.
Now login to Alert Manager and click on Integrations and click Add CRM
Select ConnectWise:
Input the settings for your integration. Please note your URL and Company ID will be the same that you use to login to CW. Ours is a test system URL.
Select your Ticketing Defaults
Once you have the ticketing profile setup you can utilize this profile for your notifications/tickets. You can also create additional ticketing profiles by going back into the integration.
Click on Notifications and you can define the ticketing profile. You can setup multiple rules that target different views or uptime monitors.
Ticketing can be created instantly or on a schedule and you can define the ticketing subjects etc.
Login to Autotask and create your API username and password:
Under Admin -> Resources (Users) click on New and select "API User", Select Alert Manager as your integration partner, and generate a username and password. These two fields will be the username and password you will use to connect Alert Manager to Datto Autotask.
Select Security Level "API User" (system)
In Alert Manager click on Integrations and click on Add CRM:
Click on Autotask and then input the username and password from the steps above:
Once you click submit you will be prompted to create a Ticketing profile. Below is a sample and you will just click the drop downs under each area you want to select defaults for on the ticketing.
Once you click submit the integration is complete and can now be used for ticketing through our notifications section.
Under the Notifications menu you can create tickets for Email and Device Monitors that you'd like to create tickets automatically for in the system.
Users can customize the ticketing subject and tickets can be set to be created instantly or on a schedule.
For Email Alerts you can specify what statuses create a ticket in the system:
For Device Monitor alerts MSPs can control how many failed alerts before a ticket is created or updated in the system.