Custom Types are useful for converting plain text from an E-Mail or Webhook into something useful like a status.
Here is a short video if you'd prefer to see it in action:
https://vimeo.com/765511104/32a541880d
Under Custom Types for example we have a default field of Status:
So for example if I want to convert Email or Webhook text to a status you can simply add the natural language that would come from that email or webhook into the appropriate category such as Error status shown to the right on the screenshot.

Then lets say I want to pick up some text in an email that has the word Fail in it I can change the type to Status and the system will then show that as a failure when we process the email.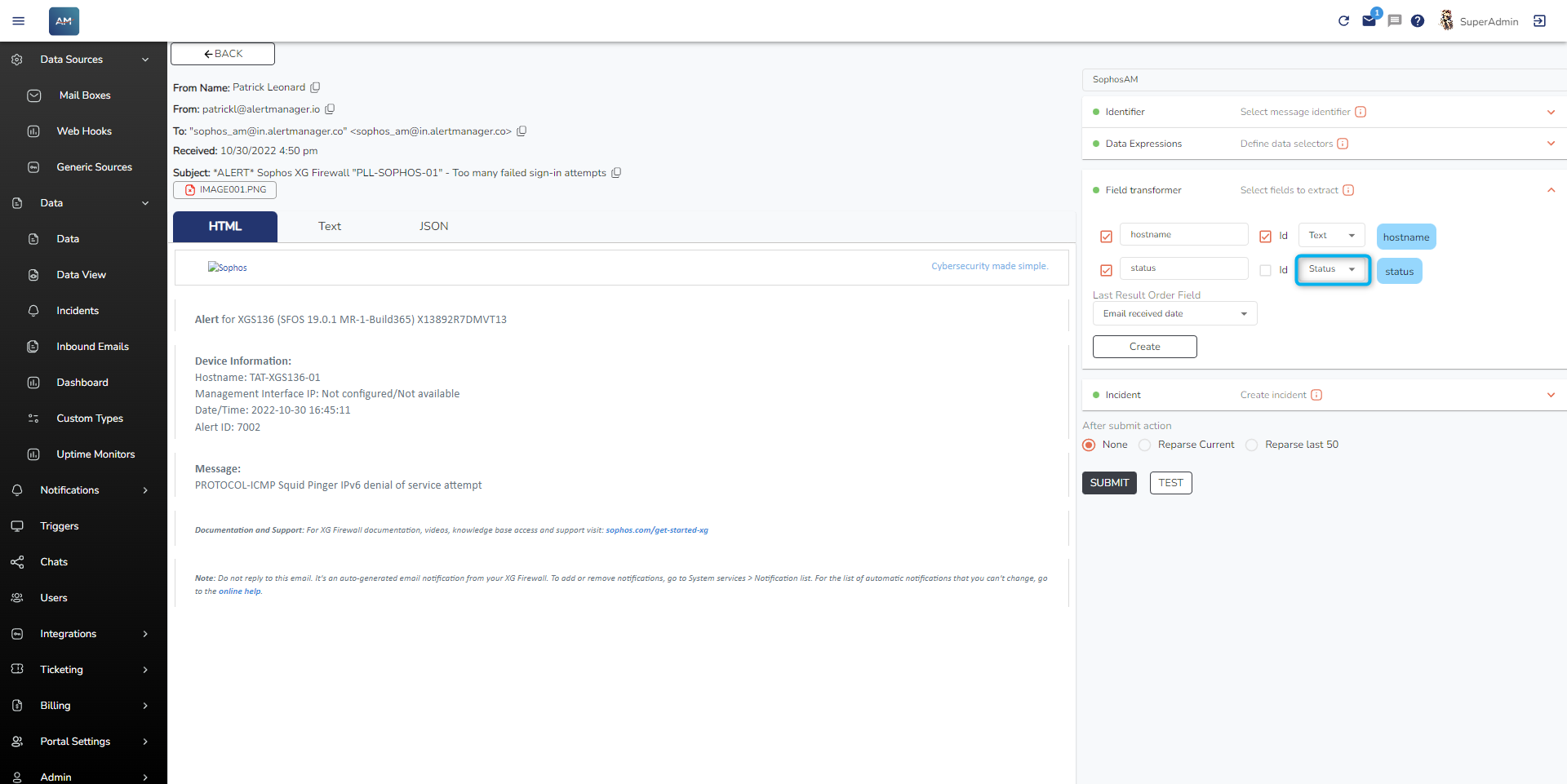 You can use the parsing system to select the text that you want to key on in the email and set the identification parameters.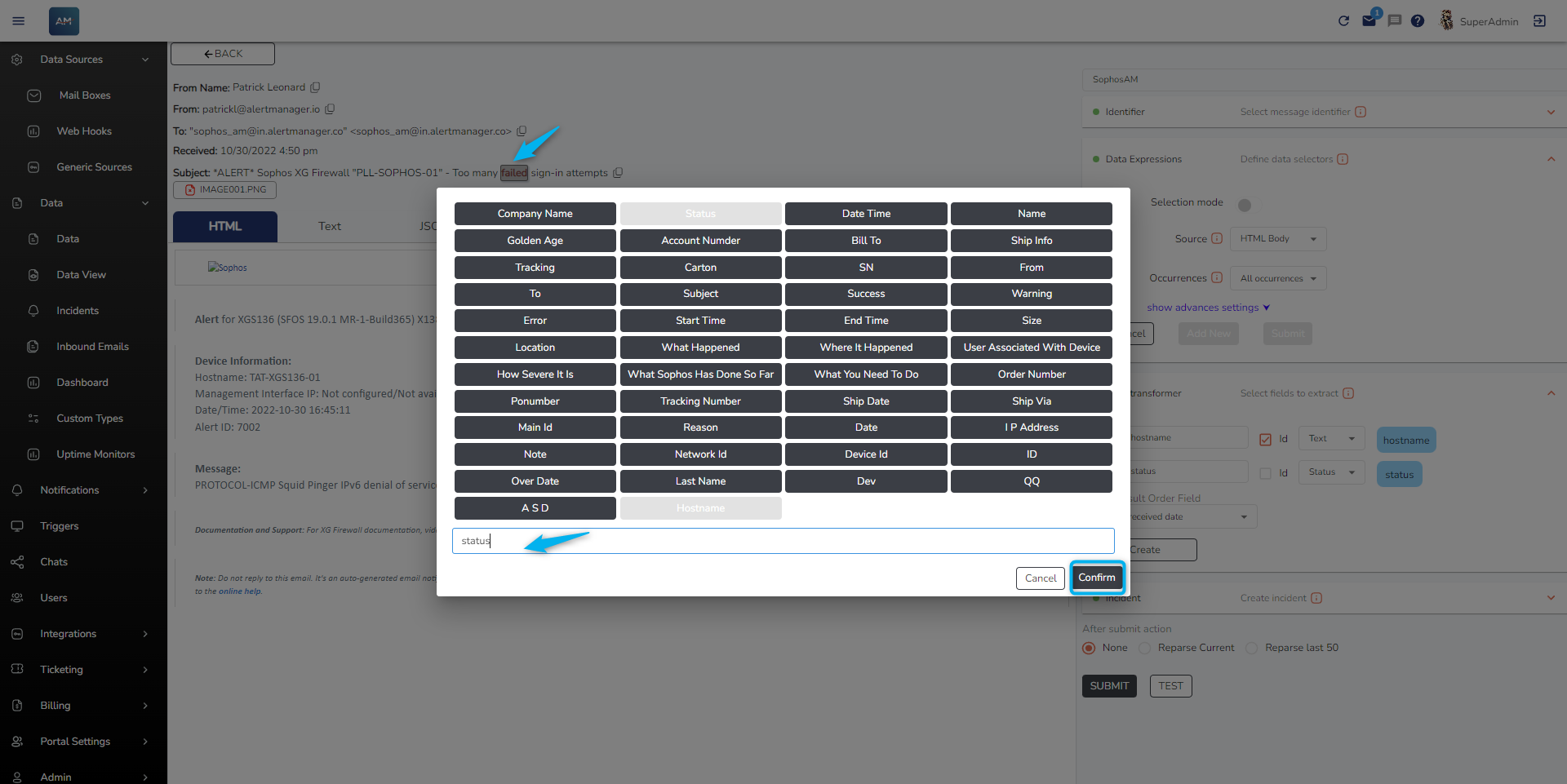 Normal parsing of text would extract the text as you selected it using the "Text" field option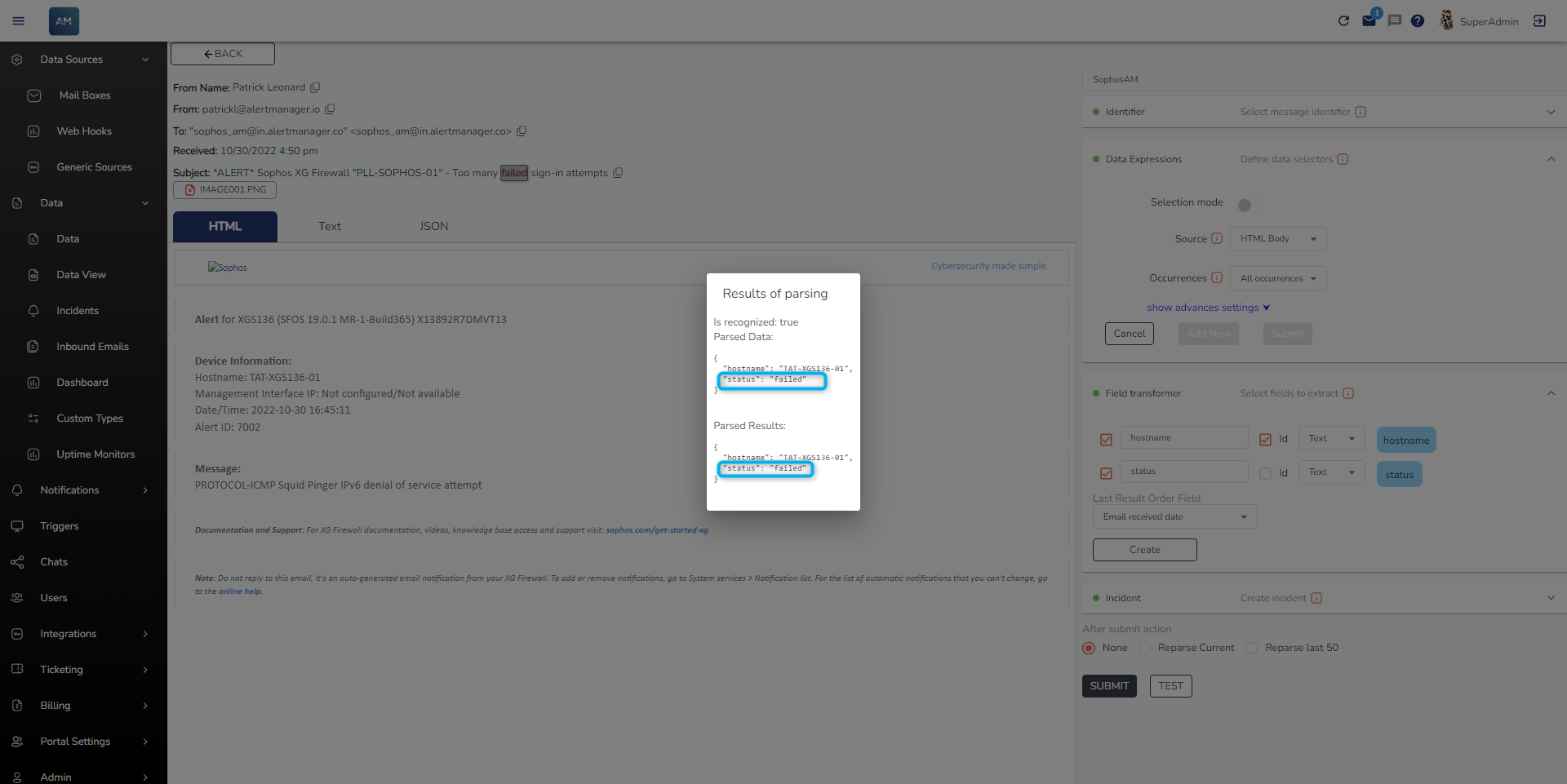 Once you click confirm you can change the field you created to a "Status" field. Shown below is how we converted the natural word "failed" to an "Error" Status.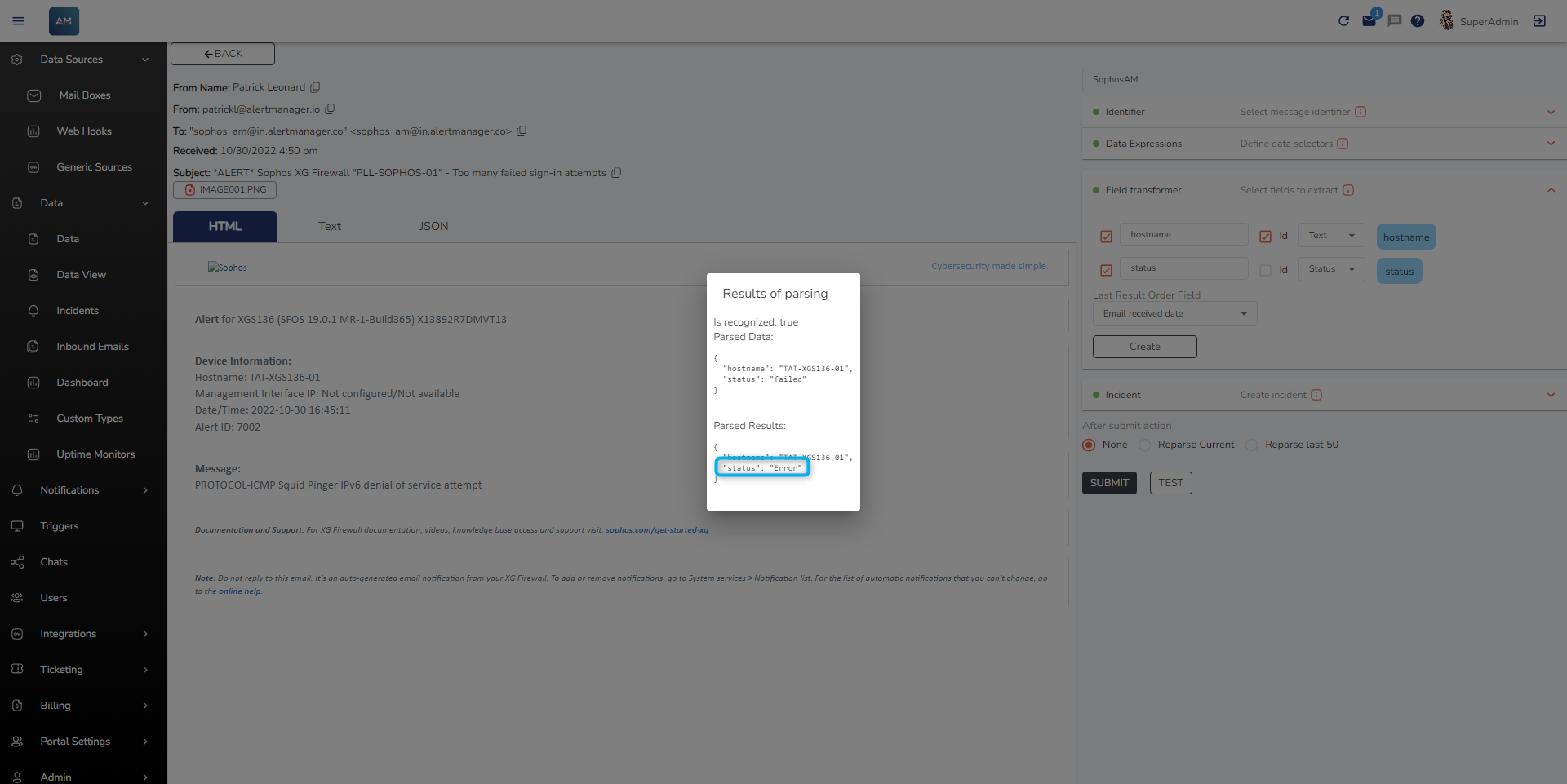 Meraki portal doesn't allow users to update alerting settings on more than one network at a time. Alert Manger allows you to apply templates to more than one org and network at the same time. This allows an MSP or Enterprise to standardize their alerting settings very quickly across one or all orgs.
Alert Manager also leverages Webhook technology to monitor real time alerts from Meraki as events happen. This template technology allows you to set the webhook settings to get those alerts to Alert Manager quickly so we can help you reduce the noise in your ticketing system.
First generate a webhook in Alert Manager by clicking on Data Sources -> Webhooks:
Click on Get, Then select Cisco Meraki and Basic Template. Then copy the webhook URL as you will paste that into the template in a future step.

Give the Webhook a Name, Select the ID fields as shown below. Change Alert Type to "Status" and click Submit.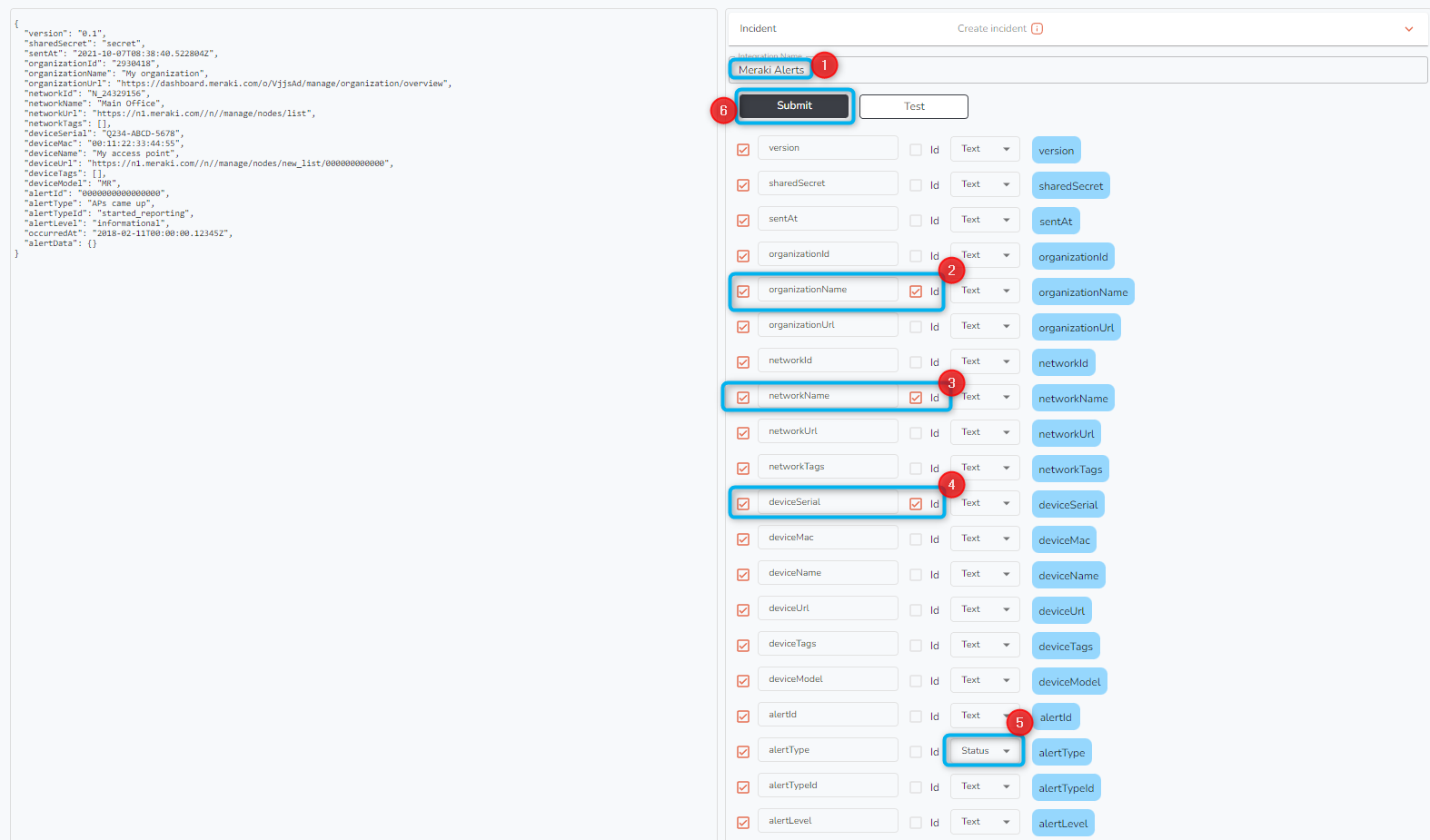 Click Link to Webhook and Select Create.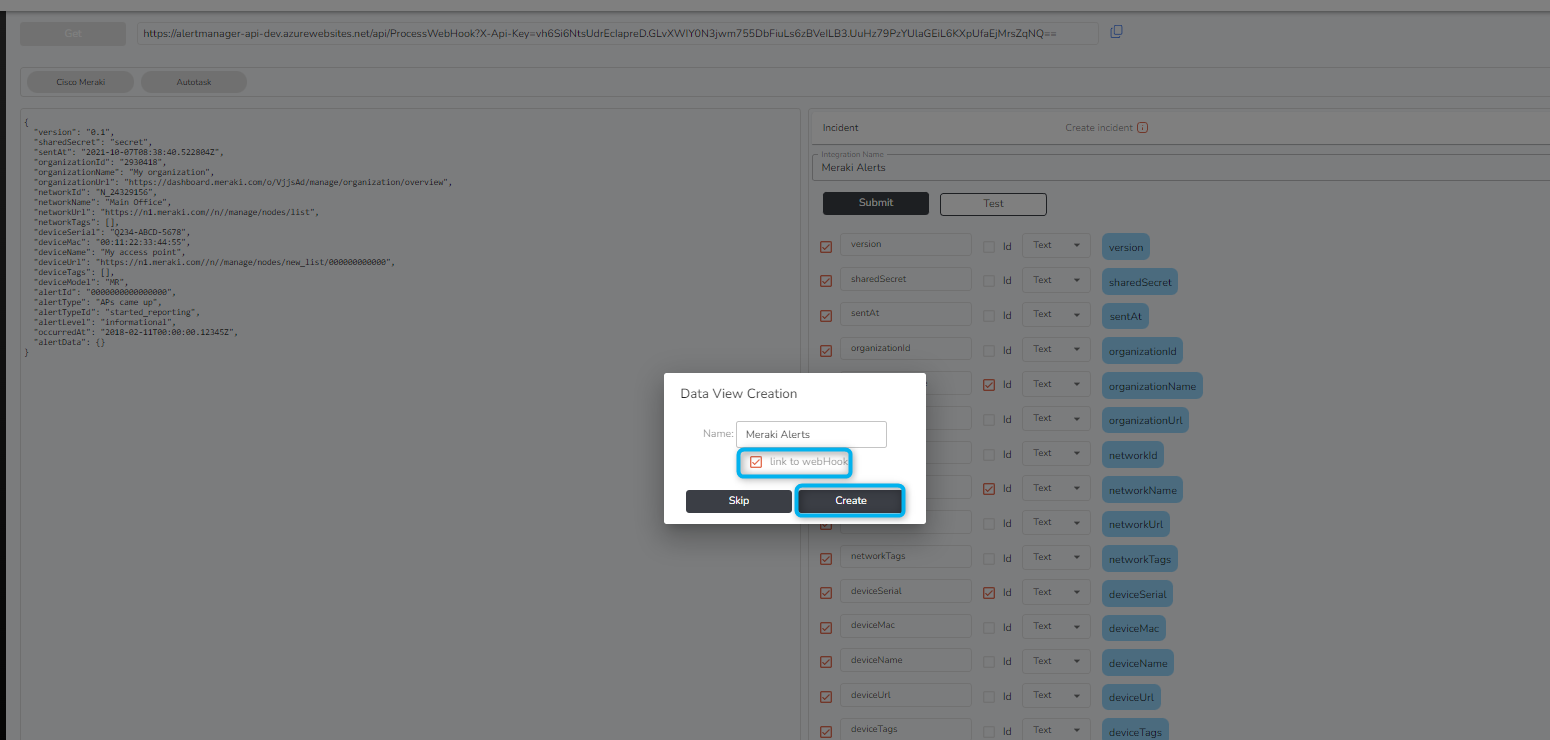 Now go to Integrations -> Alert Templates. This will add the Alert Manager webhook as an option to use the in Alert settings below.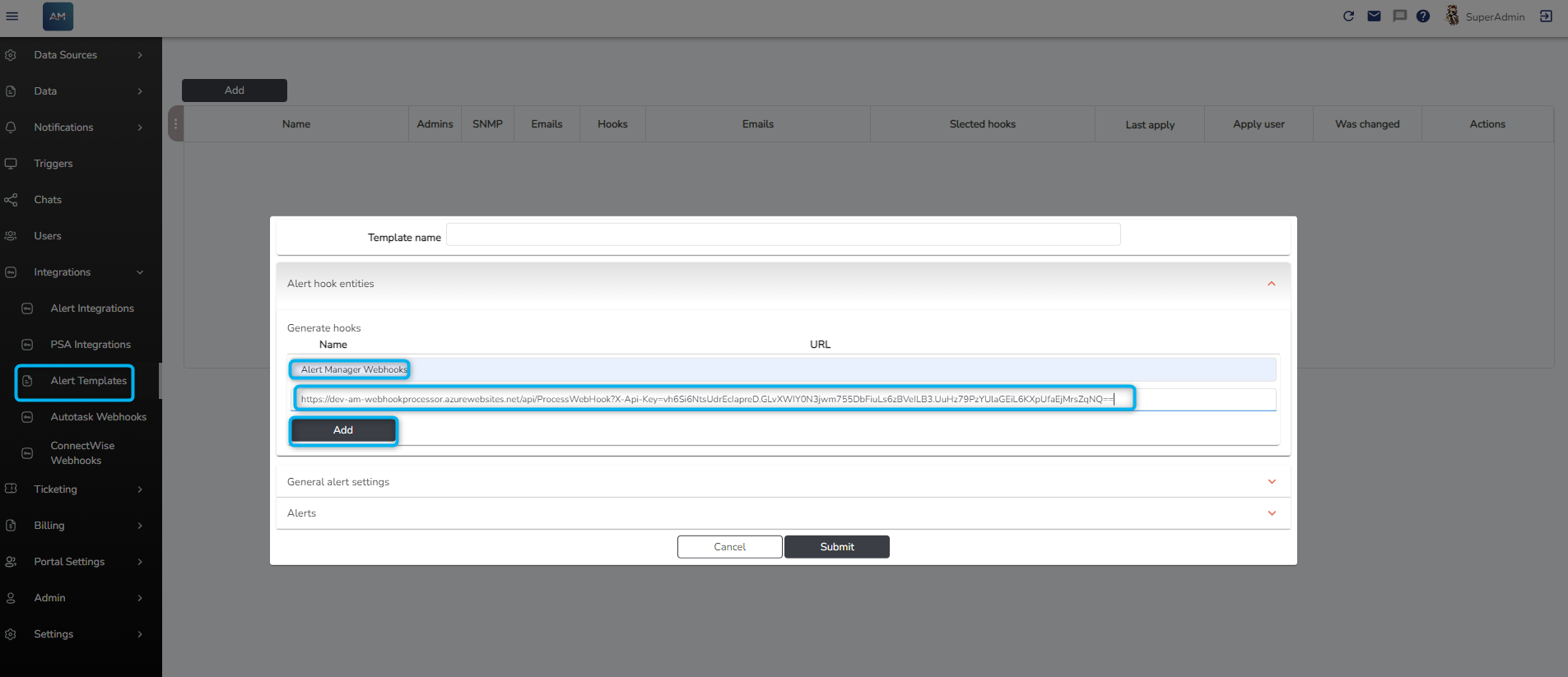 Click on General Alert settings next and click the + as shown below under Alert Hooks section.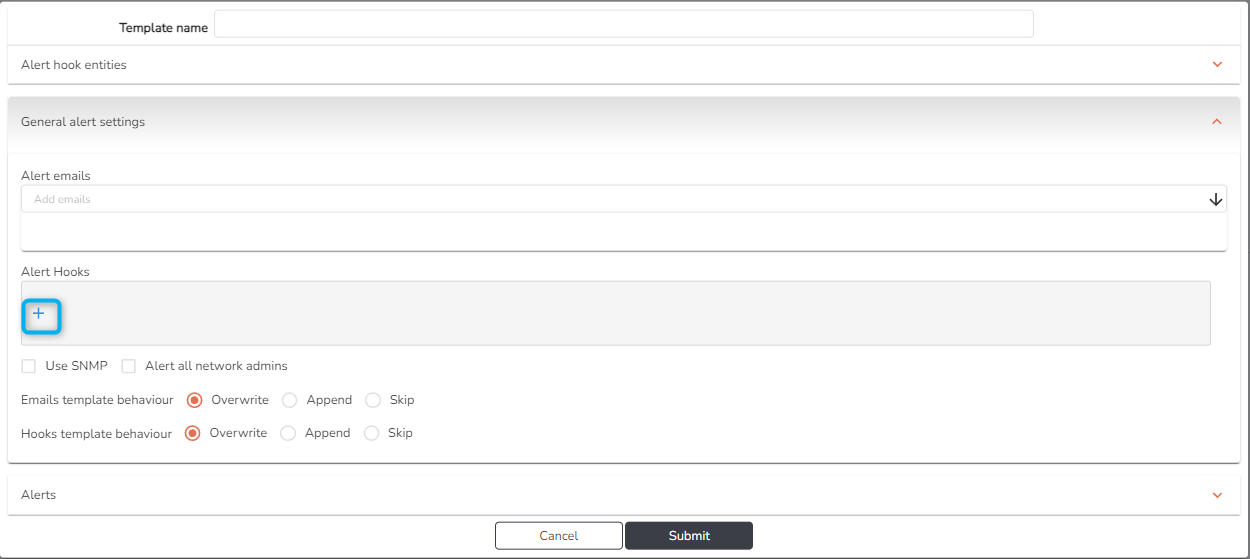 Select the Webhook name you gave it above: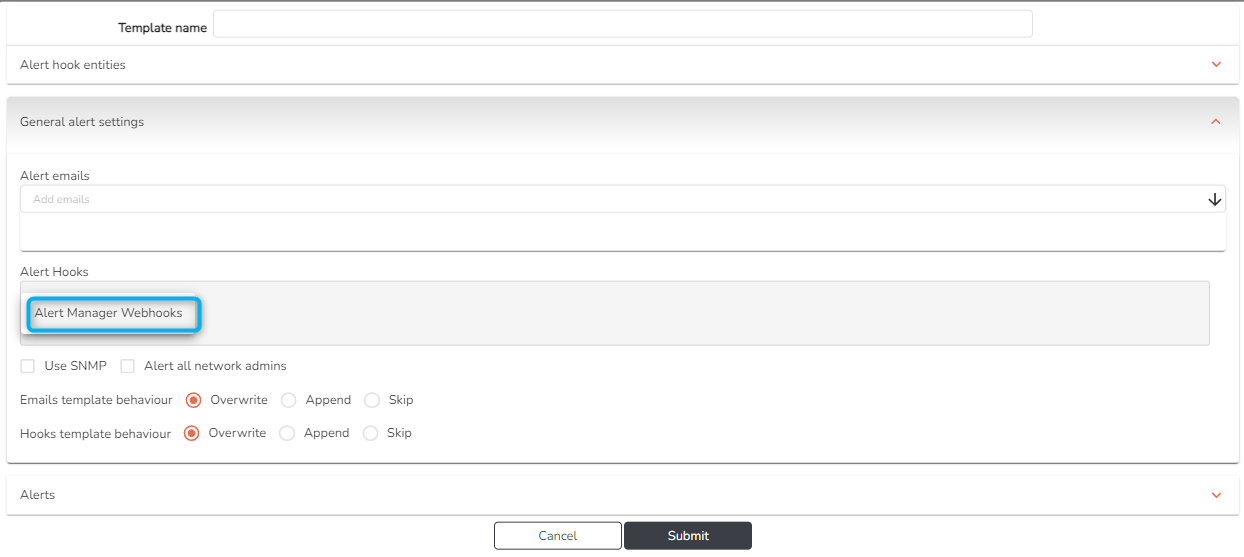 Then select the behavior you want. There are two options one is for Email behavior, and one is for Hooks (webhooks) behavior. Overwrite will overwrite all settings in that category. Append will append the settings to existing ones and skip will not take any action.
Next Click Alerts and select an alert such as Gateway goes offline. Click Enable and then change the time to 5 min or whatever time frame you'd like to be alerted when something goes offline.
IMPORTANT NOTE: You do not need to select Webhooks or Emails here as these are only for if you want something additional to what you already set globally in the above steps. For example when something goes offline you may want an email to go to someone in addition to the webhooks that happen.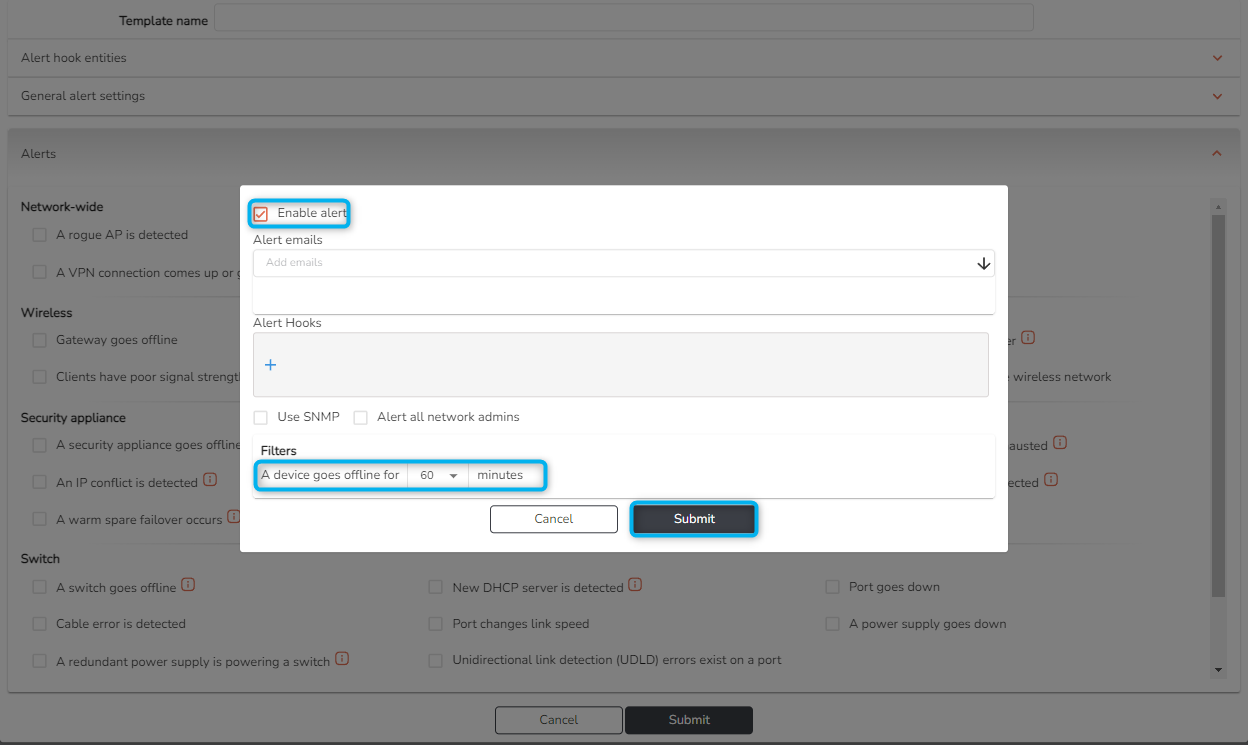 Be sure your template has a name and click Submit.

Now you can apply the template to one or more Orgs by following the wizard after selecting the page icon.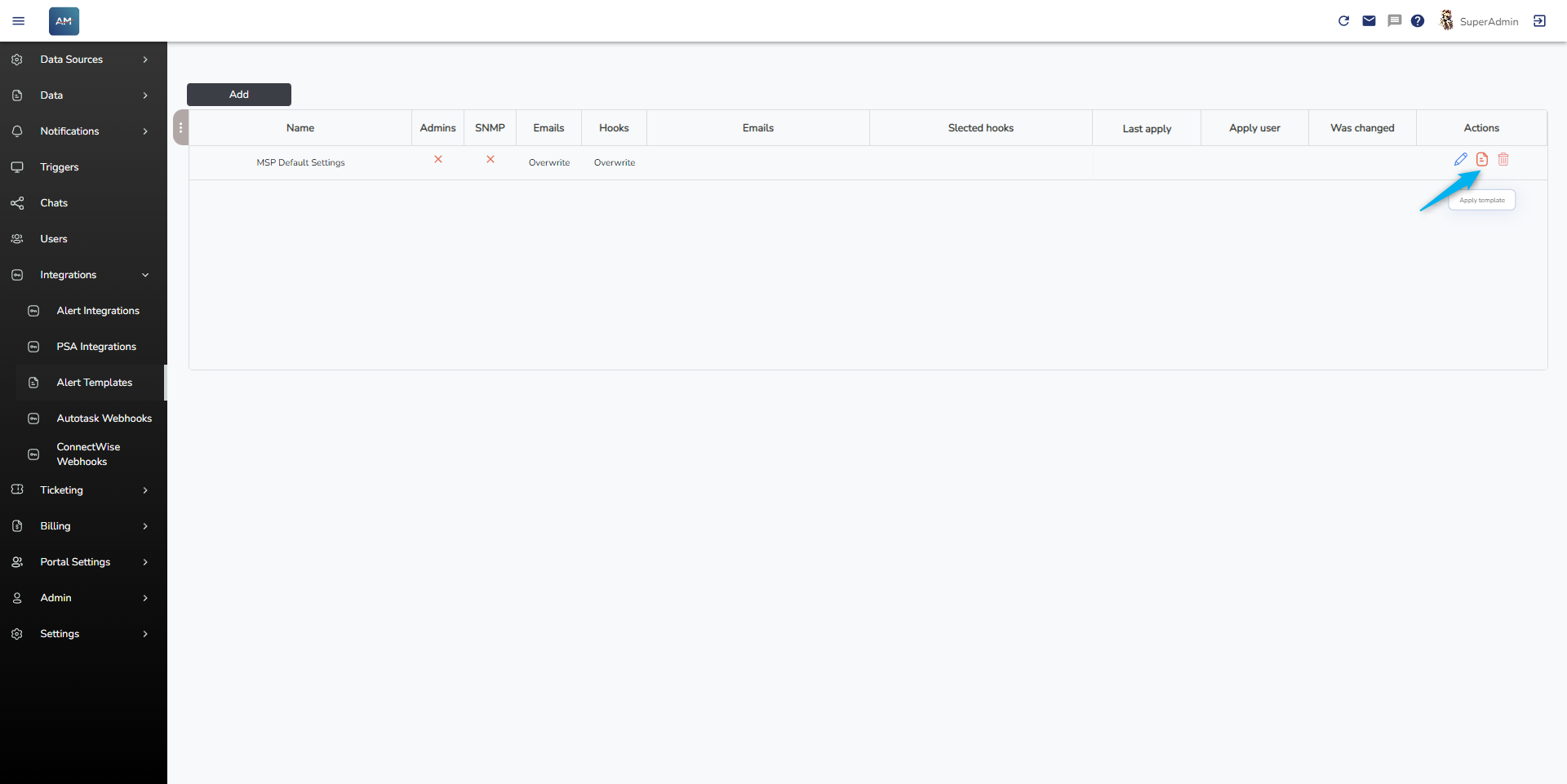 The system will then apply the template to whatever orgs/networks you selected. Once they are applied you can see inbound webhooks that come from Meraki to Alert Manager by clicking on Data Sources -> Webhooks and clicking on the eye icon to the right.