Create New Parser
Click on the subject of the email you wish to parse:
Click on Add Parser
Once the parsing window opens up you will see tabs for HTML, Text, JSON and any document files showing. In this case we will select the Lead Document.docx file we wish to parse data from.
Give the parser a name. For example if you were parsing Hubspot emails you might want to name it "Hubspot". In this case we have added two identifying rules to ensure that we process all emails that contain the subject and are from the right person. You can add one or more rules to ensure you only parse the emails that are needed.
Click on Add Data Express and start selecting data from the email.
Then select the data you wish to extract from the email or attachment. A pop up will show the name of the field if we are able to automatically determine it. If not you can customize the name yourself and click on the arrow to save it.
You can adjust the settings to the right for how we process the data by selecting the occurrence. For example if there are more than one name in the email that you want to gather you can select all occurrences. If it is just this one you can select first occurrence or selected element. Click on Submit. Then click on test to verify that the data you are trying to parse is showing up properly.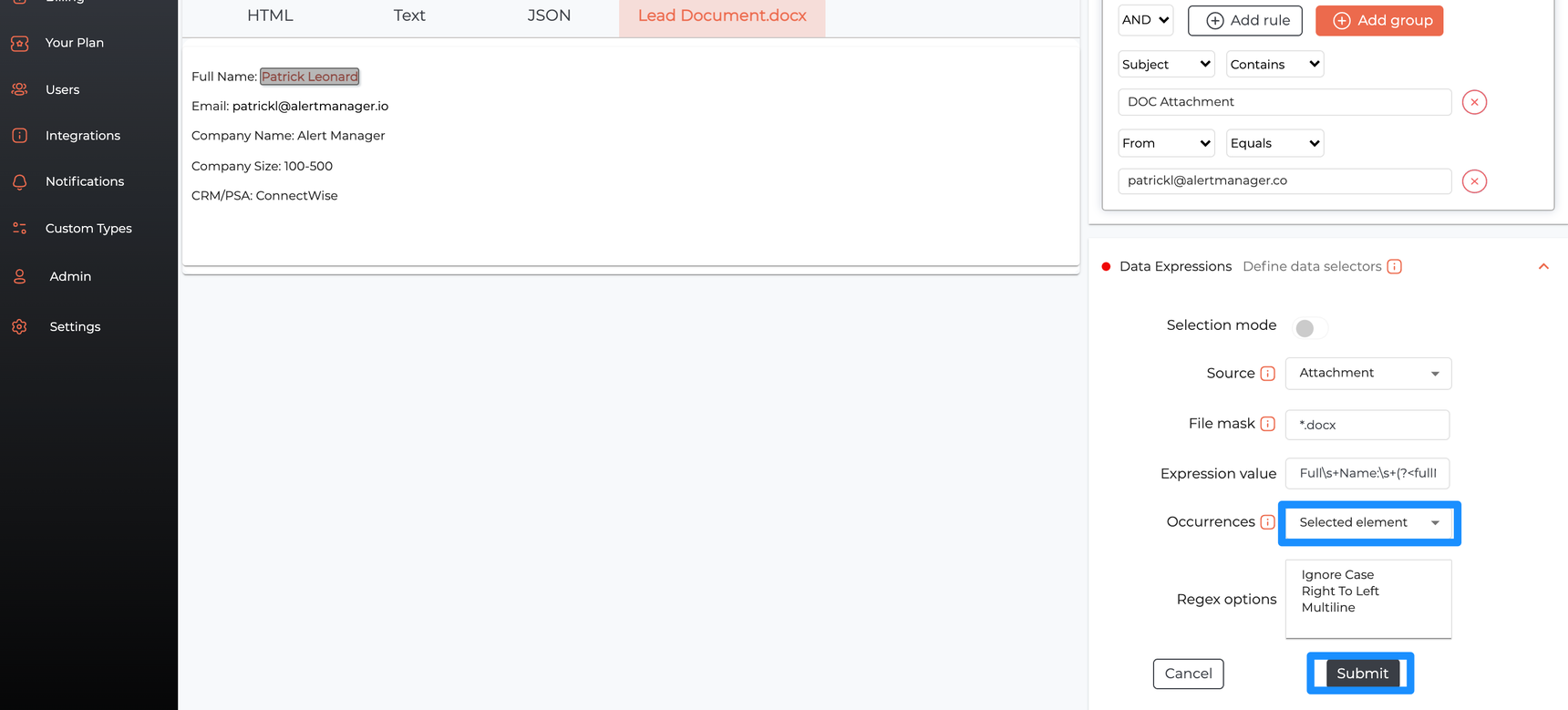 You can see the output of the clicking test and we can see that it has properly parsed the name Patrick Leonard.
We can now click on ADD DATA EXPR again to add more fields.
Once you have selected all the fields you must also select at least one ID field in the field transformer. This is how the system will logically group the data you select for viewing. In general you could select a company name, persons name, date or anything else as an identifying field. You only need one but you can group by more than one ID field if needed.
You should now see the email status as processed and the email parser you created assigned to that email.
The system will now parse the fields selected and setup a data view for you to see the data you parsed. You can rename and change the fields that are displayed in the data view on screen or in the data views section.